Lyric Hammersmith, Lyric Square, King Street, London W6 0QL
Cost: £40 per term
---
---
Applications for the Academic Year 2018-19 are now closed - the application deadline was 8th June 2018. For more information about ensembles still taking participants, please contact the hub office via info@triboroughmusichub.org.
The application portal for the academic year 2019-2020 will be open late January. Please return to this page once the portal is open to submit a new application for September 2019 or to renew your child's tuition for another year.
The Tri-borough Youth Orchestra was established in 2015 to provide an exciting opportunity for aspiring musicians of an advanced standard to come together in weekly rehearsals leading to regular performance. 
Based at the Lyric Hammersmith, the orchestra is privileged and uniquely positioned to benefit from connections with the Tri-borough Music Hub's partner organisations, which include the strategic partners, the Royal College of Music and the Royal Albert Hall, and others including Aurora orchestra, BBC Symphony Orchestra, Royal Academy of Music, Wigmore Hall. The Lyric itself is a theatre with a vibrant programme of youth arts activity. Membership of the Tri-borough Youth Orchestra includes membership of the "Young Lyric", and therefore unlimited access to the building and activities.  Supported by our fantastic partner organisations this new orchestra has high aspirations and a bright future.
2016-17 programme of activity to date:  Saturday afternoon Concert Royal Albert Hall Elgar Room December 2016; Saturday afternoon Concert Royal Albert Hall Elgar Room March 2017; Gala Concert at Royal College of Music July 2017.
The orchestra explores a range of repertoire from the classics through to contemporary works. Led by inspiring conductor Justin Fung, the orchestra offers a strong training and coaching for its players - the Music Hub's tutors, who also have a professional performance portfolio, and members of the Royal College of Music Sparks outreach team work side-by-side with each section of the orchestra offering guidance and support at every rehearsal and performance.
This new orchestra is gaining a reputation for its exciting sound, and programme of activity in some of Central London's fabulous venues: in 2016-17 we'll be performing at the Royal Albert Hall's sumptuous Elgar Room in Autumn and Spring, and plans are afoot for a Spring holiday course.
Audition requirements:
The TBYO auditions last approximately ten minutes, and you will meet the conductor and one of the orchestra tutors.
You will need to prepare:
        

a short piece, or an extract of a piece that you really enjoy playing, and that shows off a strong aspect of your ability

        

a short orchestral excerpt which will be sent to you prior to your audition (about 16 bars of a study for your instrument)

        

a set of scales and arpeggios which will be sent to you prior to your audition
The Tri-borough Youth Orchestra rehearses for ten weeks each term, with a break for half term. 
Follow this link to view the full term dates.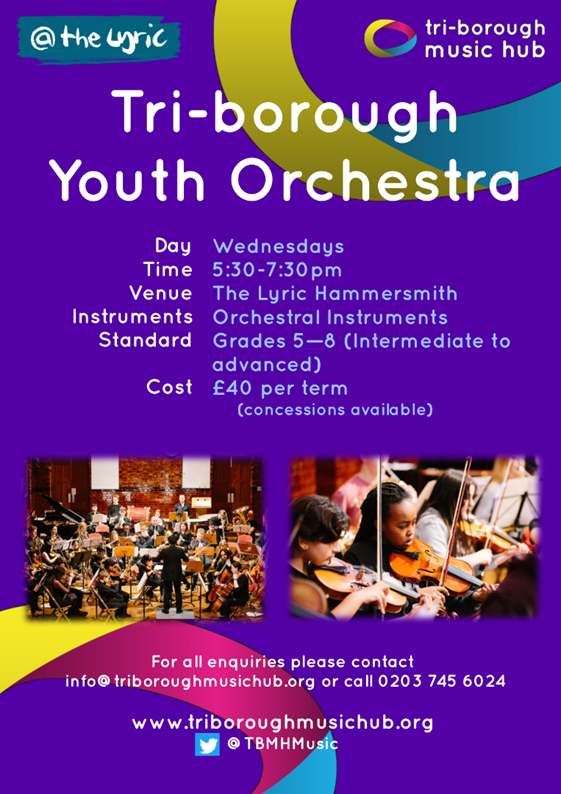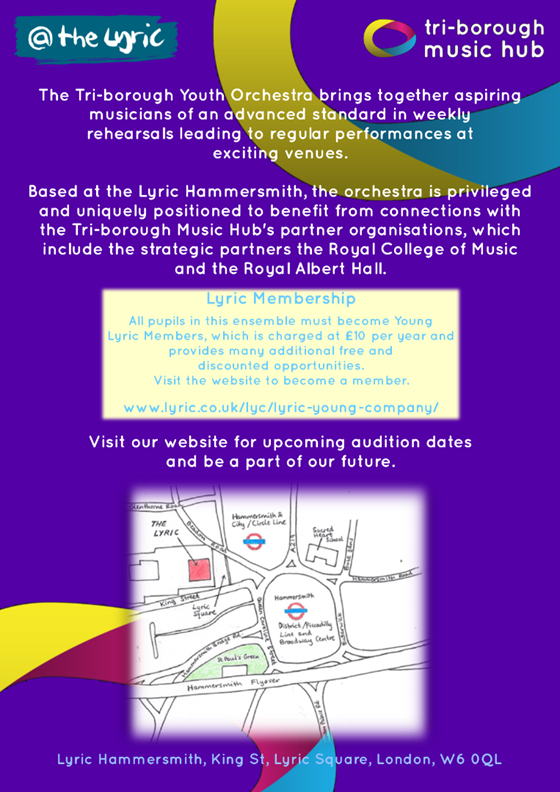 ---