Latymer Upper School, King St, London, Hammersmith W6 9LR
Cost: £95/£185/£270 per term
---
---
NEW

Saturday Music School
Applications for 2019-2020 music tuition have now closed. If you would like further information please contact info@triboroughmusichub.org.
Small Group Lesson Package and Individual Lesson Package:
The Music Hub is launching a brand new Saturday Music School in September 2019 based at Latymer Upper School which combines the previous two separate centres. The SMS will provide a holistic programme of music learning. Each pupil will engage in either a Small Group or Individual Package and will receive 5 separate activities for this, offering great value for money. 
All pupils will: 
1. Have an instrumental lesson - small group (up to 4 pupils) or individual (Pupils who are Grade 5 and above are advised to have an individual lesson to support musical development
2. Play in an ensemble relevant to their instrumental family (e.g. clarinet choir) that has players from all abilities (Grade 1-8) 
3. Play in a Creative ensemble that will be grouped by ability/age. These new ensembles will focus on creative music-making and improvisation styles. 
4. Sing in a choir that is grouped by age and will develop harmony and part singing
5. Have a Musicianship and Theory lesson that will cover the building blocks of music education
Instruments
Wind, Brass, Strings, Guitar, Piano, Percussion and Voice
SMS will run for 10 weeks each term, with a break for half term. 
Saturday Whole Class Instrumental Lessons (Y2-4 / concessions only):
**Please note these classes are only for children in years 2, 3 & 4 who are in receipt of Free School Meals**
We are offering new whole class instrumental lessons for children in years 2, 3 & 4 who are eligible for the 50% remission. 
In the classes, pupils will: 
1. Learn to play a string or wind instrument, sing, practice and perform in a supportive small class setting (all)
2. Have a 45 minute small class Fiddle Sticks & Songs lesson (for children in year 2) 
3. Have a 45 minute small class Recorders Sticks & Songs lesson (for children in years 3 & 4)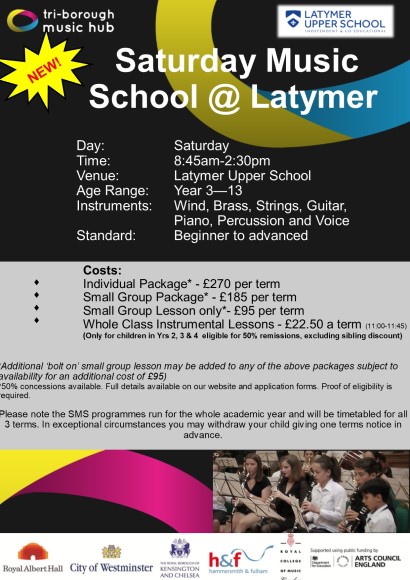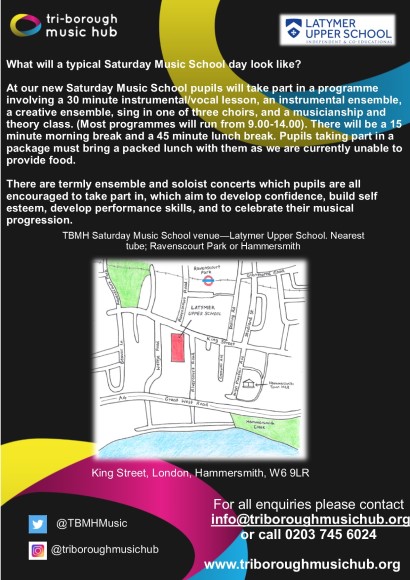 ---