Lyric Hammersmith, Lyric Square, King Street, London W6 0QL
Cost: £40 per term
---
---
Thank you for your interest in TBMH Tuition. We provide a broad range of out of school musical activities after school during the week and on Saturdays for children and young people aged 5-18. Below you can find details of our current activities for the academic year 2018-2019. There are limited places available for our current programme, so please contact info@triboroughmusichub.org if you are interested in your child joining us for the summer term.
We will be launching our new programme for 2019-2020 here on Wednesday 24th April when we will be taking new applications for September. Please check back in then to view our full programme and to complete your application form. Please note the application deadline for all activity for 2019-2020 is Friday 24th May.
Auditions will be held in the second half of the summer term (where applicable) and confirmation of tuition will be sent out by the end of July.
Junior String Ensemble
Junior Wind, Brass and Percussion Ensemble
The Tri-borough Music Hub's Junior String and Junior Wind & Brass Ensembles take place at the Lyric Hammersmith on Mondays after school, from 5.15-6.15pm.
These ensembles explore fun music for strings and wind & brass, whilst developing valuable ensemble, reading and musicianship skills. Pupils who are between Grade 1-4 standard on violin, viola, cello or mini bass are welcome to apply for the Junior String Ensemble and all wind, brass and percussion players are welcome to apply for the Junior Wind & Brass Ensemble.
The ensembles run for 10 weeks each term, with a break for half term.
Click Here to view Term Dates for Junior String Ensemble.
Click Here to view Term Dates for Junior Wind & Brass Ensemble.
For more information email info@triboroughmusichub.org or see the flyer below.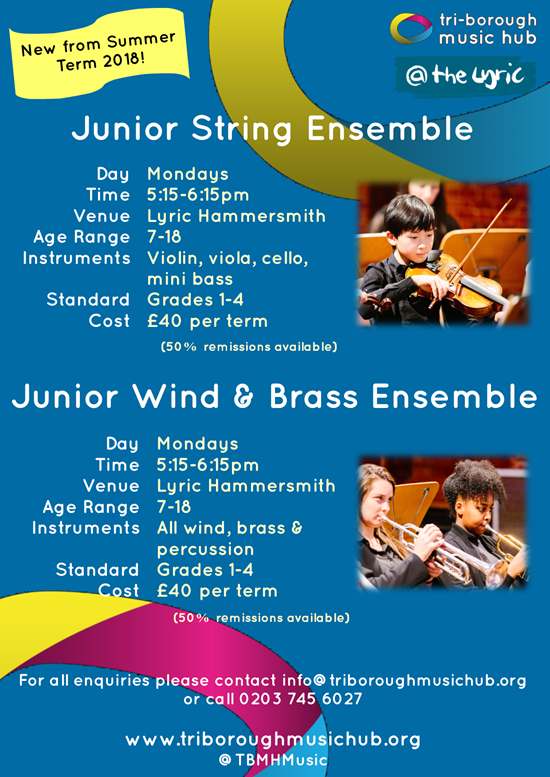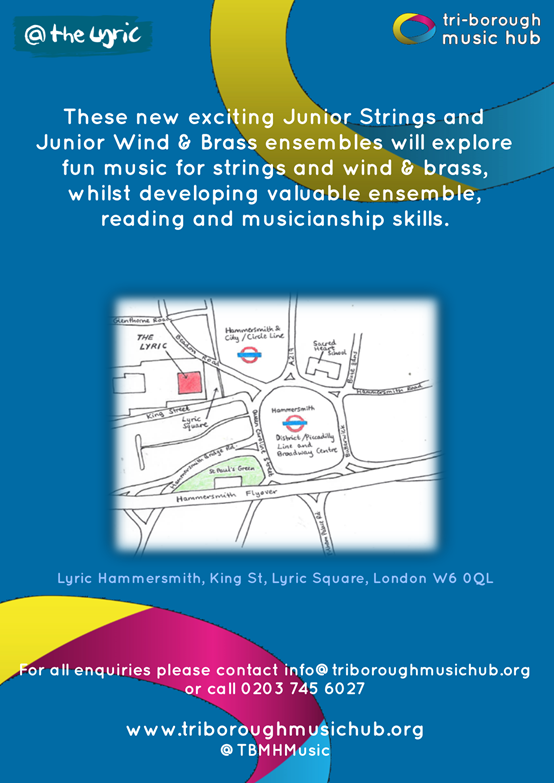 ---