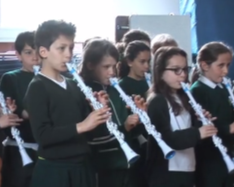 ---
This year, with TEAfilms and Sally Greaves, the TBMH has put together three short films which provide a whistle-stop tour of everything that pupils can take part in as part of our programme of activity outside of school; this video shines a light on our bespoke commissioned teaching resources, written by Sally Greaves, used for our in-school Whole Class Instrumental Learning programmes!
The Tri-borough Music Hub runs a wide variety of musical learning opportunities for pupils to engage with outside of school time. Each week we run:
         2x Saturday Music Centres (lesson, choir, music theory, ensemble)
         A keyboard centre (30 minutes' small group lesson)
         Sonic Pi Music Coding Club (delivered by our partners, The Rhythm Studio and the Lyric)
         Little Singers Choir (Years 1-3)
         The Young Singers (Years 4-7)
         AKA Singers (Years 7-13)
         Tri-borough Chamber Choir (Years 7-13)
         Tri-borough Folk Ensemble (Grades 1-8)
         Tri-borough Youth Orchestra (Grades 5-8)
All these activities are offered at heavily discounted rates thanks to core Government funding through the Department for Education and Arts Council England. In addition we also offer 50% remissions for any pupil in receipt of Free School Meals; and 50% off for any sibling taking part in the same activity. The full list of our provision and prices can be found HERE.
We are looking to increase the numbers of pupils who come to our activities as we would like to bring these opportunities to even more children and young people. Please help us spread the word to their friends, families, and colleagues about the musical learning activities that are open to all pupils who live, or go to school, in our three Local Authorities (Westminster, Hammersmith and Fulham, Kensington and Chelsea).
Watch the WCIL film and find out more...