Lyric Theatre Hammersmith, Lyric Square, off King Street, London W6 0QL
Cost: £40 per term
---
---
Chamber Choir - joining the choir
Thank you for your interest in TBMH Tuition. We provide a broad range of out of school musical activities after school during the week and on Saturdays for children and young people aged 5-18. Below you can find details of our current activities for the academic year 2018-2019. There are limited places available for our current programme, so please contact info@triboroughmusichub.org if you are interested in your child joining us for the summer term.
We will be launching our new programme for 2019-2020 here on Wednesday 24th April when we will be taking new applications for September. Please check back in then to view our full programme and to complete your application form. Please note the application deadline for all activity for 2019-2020 is Friday 24th May.
Auditions will be held in the second half of the summer term (where applicable) and confirmation of tuition will be sent out by the end of July.
The Tri-borough Chamber Choir launched in September 2017. It is an auditioned choir for secondary-aged young people in school years 7-13, and a progression route for children who have previously been members of The Young Singers choir. The Chamber Choir sings mostly classical repertoire, as well as folk songs and early music. Rehearsals will include tuition on music-reading and sight-singing. The choir made their debut performance at the Barbican in December 2017, performing as part of the young people's chorus with the Academy of Ancient Music. in the world premiere of a new work by Hannah Conway - Messiah Who? A Young Known Voice, which the choir members also helped to create.
Audition Requirements
Prepare two contrasting pieces from classical, folk or musical theatre - no pop, belt or R&B. A list of suggested songs will be sent to all candidates in advance.
To sing a scale and a vocal exercise for range
To sing back a short melody
To learn a short excerpt from a piece of sheet music (with help from the audition panel) and discuss what you see on the page
Audition candidates should also attend a free trial choir session (date to be announced).
Click here to view the full term dates.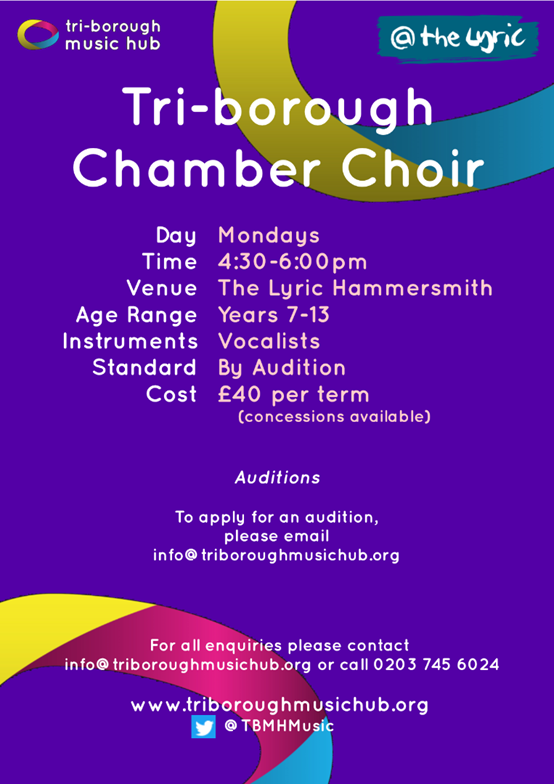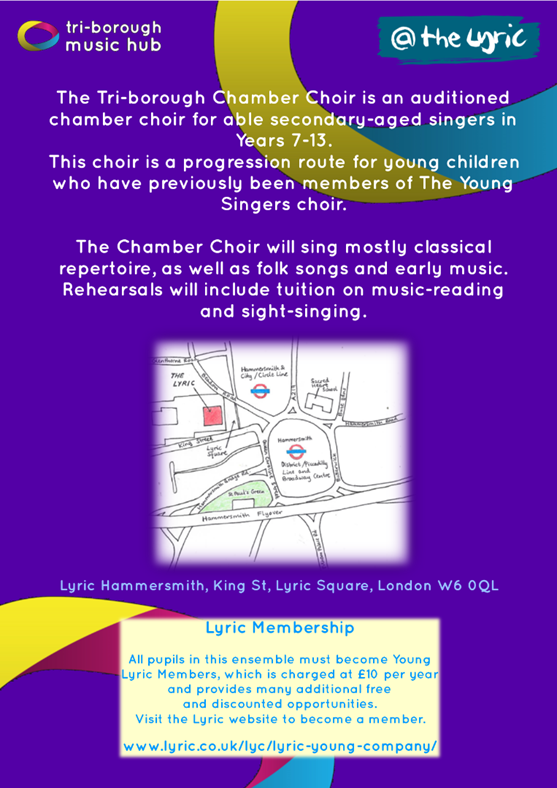 ---