Latymer Upper School, King St, London, Hammersmith W6 9LR
Cost: £160 per term (concessions available)
---
---
Thank you for your interest in TBMH Tuition. We provide a broad range of out of school musical activities after school during the week and on Saturdays for children and young people aged 5-18. Below you can find details of our current activities for the academic year 2018-2019. There are limited places available for our current programme, so please contact info@triboroughmusichub.org if you are interested in your child joining us for the summer term.
We will be launching our new programme for 2019-2020 here on Wednesday 24th April when we will be taking new applications for September. Please check back in then to view our full programme and to complete your application form. Please note the application deadline for all activity for 2019-2020 is Friday 24th May.
Auditions will be held in the second half of the summer term (where applicable) and confirmation of tuition will be sent out by the end of July.
The Latymer SMC is focused on musicians who are at the intermediate and advanced stages of learning, from Grades 1-8.
Pupils wishing to take part in the Small Group Package of lessons, will have a 30 minute small group lesson, take part in an ensemble, sing in a choir, and have a music theory class.
For an additional charge they can have a 30 minute individual lesson.
Pupils will be timetabled to provide a varied range of activities. There is also a programme of Performance Practice sessions designed to look at the holistic approach to performance.
There is a guitar ensemble, singing and choirs, string orchestras, and wind orchestras; all of which will perform in termly concerts – December, full ensembles and selected smaller items; March for smaller chamber music items; July, full ensembles and end of year celebration. Some ensembles will also be invited to perform in external concerts over the year.
Pupils at this centre may also audition to join the Tri-borough Youth Orchestra, on Wednesday evenings, 5.30-7.30pm at the Lyric Hammersmith.
Instruments
Brass, Guitar, Percussion, Strings, Wind, Vocals.
SMC @ Latymer will run for 10 weeks each term, with a break for half term. 
PLEASE NOTE: There will be no lessons at SMC Latymer on Saturday 1st December 2018.
Click here to see the full term dates.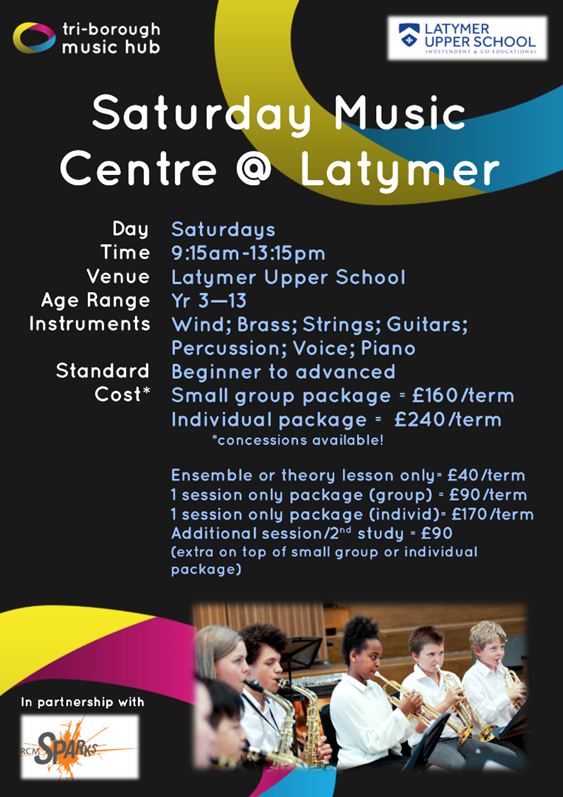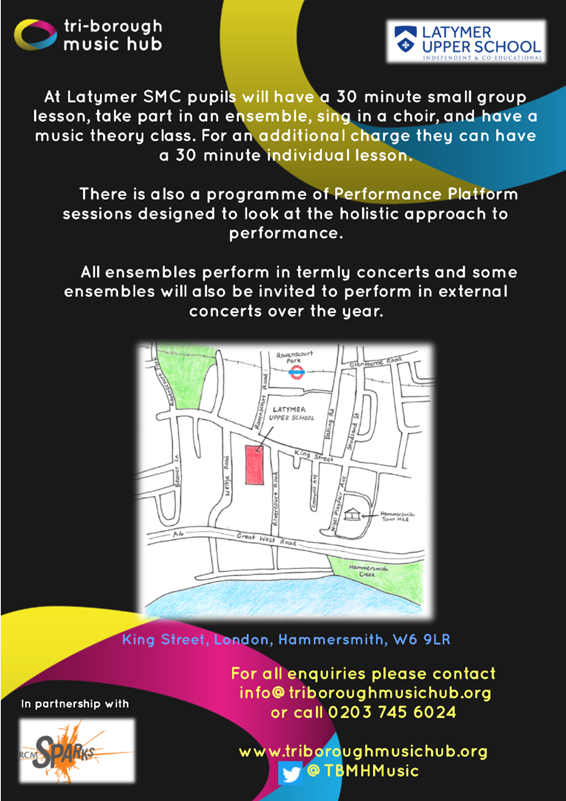 ---