Lyric Hammersmith
Cost: £40 per term
---
---
Thank you for your interest in TBMH Tuition. We provide a broad range of out of school musical activities after school during the week and on Saturdays for children and young people aged 5-18. Below you can find details of our current activities for the academic year 2018-2019. There are limited places available for our current programme, so please contact info@triboroughmusichub.org if you are interested in your child joining us for the summer term.
We will be launching our new programme for 2019-2020 here on Wednesday 24th April when we will be taking new applications for September. Please check back in then to view our full programme and to complete your application form. Please note the application deadline for all activity for 2019-2020 is Friday 24th May.
Auditions will be held in the second half of the summer term (where applicable) and confirmation of tuition will be sent out by the end of July.
Little Singers is a choir for children in school years 1-3.
There is no audition, and no previous experience is required, just a love of singing! Children will learn a wide range of songs, rounds and musical games, helping them to increase their confidence and develop musical skills. They will also have the opportunity to work with young mentors from the Music Hub's other choirs, The Young Singers, Tri-borough Chamber Choir and AKA Singers.
Little Singers made their debut performance at the Lyric Theatre Hammersmith in December 2016. In March 2017 they sang at the Music Hub's first Infant Voices Festival, at Hammersmith Town Hall, and in the summer term they sang at the Music Hub's Gala concert at Kensington Town Hall.
Follow this link to view the full term dates.

Choir Uniform
Choir members will be provided with a blue Little Singers t-shirt. This should be worn for performances, along with smart black trousers or skirt, black tights/socks and smart black shoes. Children do not need to wear their choir uniform to rehearsals.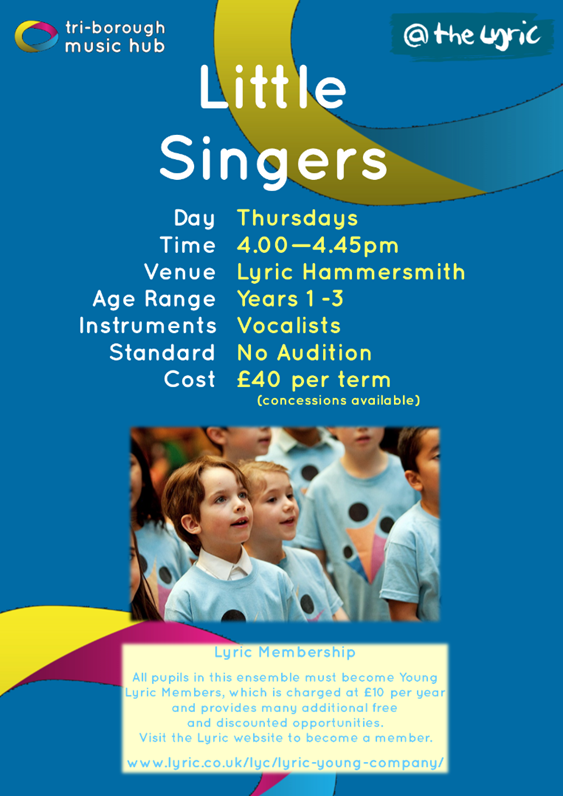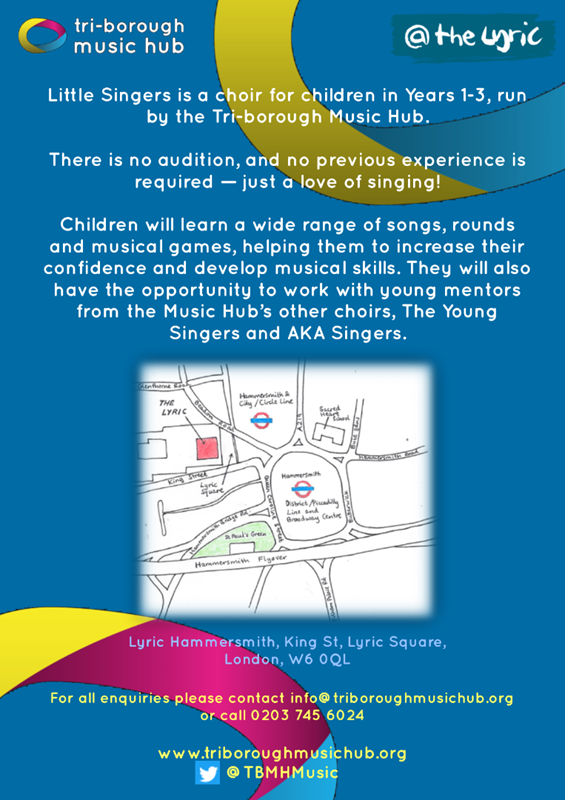 ---