The Lyric Hammersmith, Lyric Square, King Street, London, W6 0QL
Cost: £40 per term
---
---
AKA Singers - joining the choir
Thank you for your interest in TBMH Tuition. We provide a broad range of out of school musical activities after school during the week and on Saturdays for children and young people aged 5-18. Below you can find details of our current activities for the academic year 2018-2019. There are limited places available for our current programme, so please contact info@triboroughmusichub.org if you are interested in your child joining us for the summer term.
We will be launching our new programme for 2019-2020 here on Wednesday 24th April when we will be taking new applications for September. Please check back in then to view our full programme and to complete your application form. Please note the application deadline for all activity for 2019-2020 is Friday 24th May.
Auditions will be held in the second half of the summer term (where applicable) and confirmation of tuition will be sent out by the end of July.
AKA Singers is an auditioned Tri-borough secondary schools choir. The group enjoy singing in a wide range of styles including pop, rock, gospel, soul and R & B. AKA perform regularly at high profile events and venues, including appearances at the Royal Albert Hall and the London Jazz Festival.
AKA Singers will run for 10 weeks each term, with a break for half term. 
Follow this link to view the full term dates.
How to apply
One-off auditions can be arranged throughout the year, but the choir's main auditions have taken place this Spring term, for places starting in September. To apply for an audition please complete an online application form for your child. We will then be in touch to arrange an audition date for the Summer term 2019. Audition candidates should also attend a trial rehearsal.
About the audition
Please prepare an unaccompanied contemporary song (own choice).
Choir Uniform
The AKA Singers uniform for performances consists of smart black trousers or skirt (knee-length or lower), black tights/socks and smart black shoes, along with a smart black collared shirt. This is worn with a purple AKA tie (provided). We recommend purchasing a men's black shirt from Primark or similar. Choir members do not need to wear their choir uniform to rehearsals.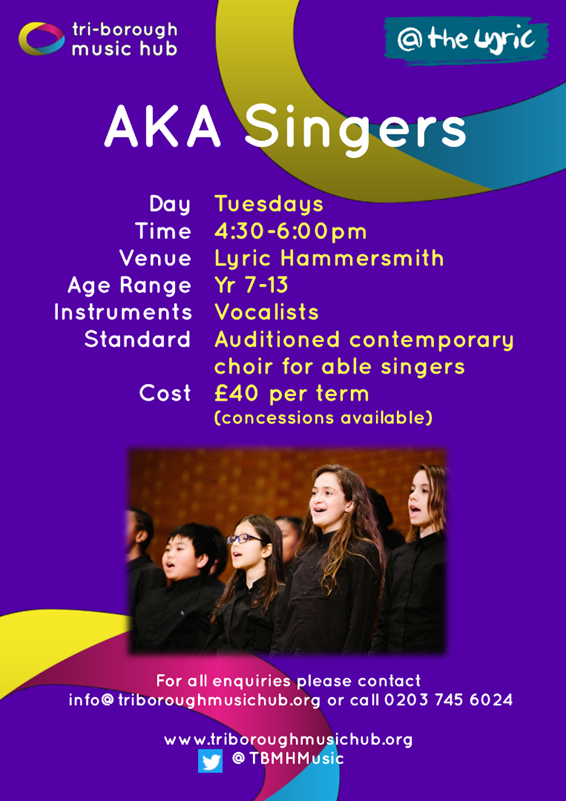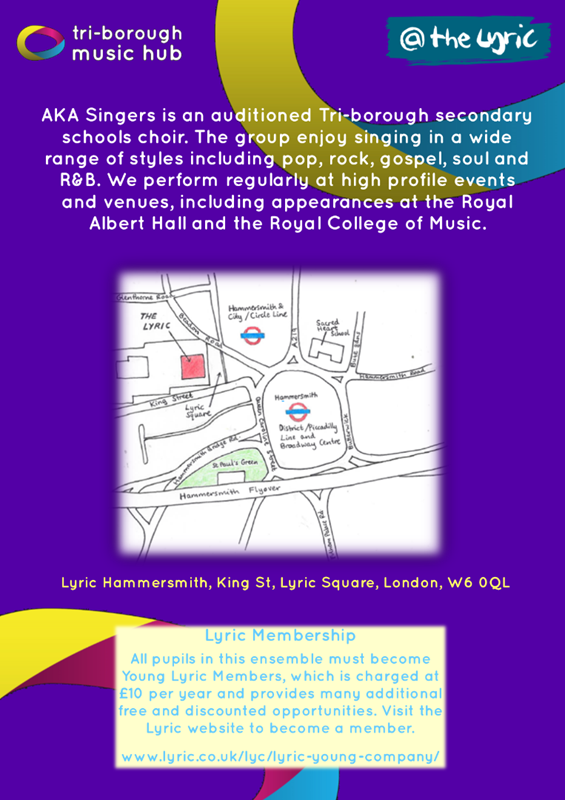 ---